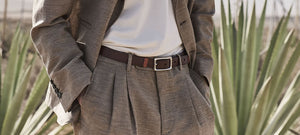 "YES PLEATS"
Winds are changing and over recent seasons, trousers have crept upwards, towards a man's natural waist. The trend has been spearheaded by Italy's tailoring colossi – Armani, Cucinelli, Caruso – and comes twinned with the long overdue drift from skinny to more billowing legs. That's because to pull off more relaxed trousers (you can stop the spit-takes now, they're happening) those acres of extra fabric need a decent distance to fall.
These shifting winds have blown a long-lost – but much-missed – detail back into fashion: the pleat. Until recently, 'pleated' was kicking back on the same scrapheap as 'bootcut', 'square-toed' and 'wraparound', an adjective that no one in the know wanted anywhere near their wardrobe. Your grandfather wore pleated trousers because pleated trousers were comfortable. You poured yourself into skinny jeans that buffed off leg hair, because when did comfort and style ever play nice?
The Dos And Don'ts Of Pleated Trousers
Do…
Update them. For the uninformed, pleated trousers can still have a slightly grandfatherly feel. But it's not hard to shake off any fustiness. "That sepia-tinted snap of your grandfather beaming in his pleated slacks in Bognor might look cool and nostalgic," says Kurup, "but the key to revived trends is not to repeat exactly what has been done before."
Tradition's best when it's modern, so throw in things that grandad would never wear. "Avoid slouchy cardigans and don't be afraid to mix up your look with a few contemporary pieces." Chunky trainers, hoodies and cropped bomber jackets are all fair game.
Embrace the tuck. If you're wearing pleats, show them off. "The added bulk of the pleated front loses its effect when covered by your shirt or jumper," says Farnham. "You end up looking like you just have a paunch. Keep it neat, tuck that shirt in." Ditto for tees and even knitwear.
Discover your actual waistline. We'll go out on a limb and guess you've been wearing your trousers too low. Pleats will prove why your natural waist is best. "The slight curvature of the pleats is most flattering when worn a little higher, above the hips," says Farnham. "It will also cinch in any additional holiday weight you might be carrying. Which is a nice bonus."
Don't…
Steer too casual. Pleats are functional, rather than decorative, which means they look best when they're actually doing something – they need fabric that falls and drapes properly. "Sportswear-inspired materials such as scuba are too thick and structured for the nuanced elegance of a pleat," says Farnham. Denim is doable – see E. Tautz for proof – but it's not an easy look to pull off. If in doubt, stick to fabrics you could cut a whole suit from.
Think bigger is always better. We're in a more-is-more moment right now, but there's no shame in temperance. Pleated trousers are roomy enough without an oversized sweat or longline shirt. "If your trousers are a little wider, don't go oversized with everything else, or you run the risk of looking like a circus tent," says Kurup. "Go for a slimmer-fitting top if your trousers are more relaxed, and vice-versa if your trousers are on the slimmer side."
---